"Beautiful song, and arrangement."                                         Pandit Debashish Bhattacharya
BIO
 I was born in Wyandotte, Michigan, and now live in Reston, Virginia. I taught myself guitar when I was 13 years old and now write songs and perform them. I've published a free on-line site, Guitar International Magazine since 2004 and been fortunate to have interviewed many music legends, music industry leaders, and others with talent. When I moved to D.C. in the '70s I played a few clubs and busked on the streets. Many moons later, I played an open mic and was asked to be the venue's first featured singer-songwriter. That was in 2019 and since that time I've performed at the Embassy of the Republic of South Africa, the 2023 National Cherry Blossom Festival, the Herndon Festival, Reston's Founder's Day, the W&OD Trail Family Festival, venues in Virginia, Maryland, DC and New Mexico., house concerts and many local venues (Earp's Ordinary 5x), Blue Wing Frog (3x), Cafe Montmartre (7x) and many more.
NEW NASHVILLE VOYAGER INTERVIEW HERE!
Mid-Atlantic Song Contest Awards
"Angel on the Wing" (2021)
"Maria" (2022)
My songs are a mixed bag: 
- "1913 Stage Canon No. 2" - a song about two coal mining disasters (1913 and 1923), and a video requesting donations to a miners' legal defense fund..
- "I Feel the Rain" - a song about the death of a child - A portion of  this song's performance revenue proceeds will be donated to support victims a the Robb Elementary school , Texas.  The song is about the loss of a child. 
- "Appalachian Hollow" - a song about poor and disenfranchised women - A portion of this song's performance revenue proceeds will be donated to support the World Food Program USA for Somalia. 
There will be maybe two more to support charities, one for dementia and a Nelson Mandela children's fund, but I want to improve the songs a bit more....
Some of my most favorite times are when I'm sitting with a guitar, writing a song, and some melody or riff shows up, certain words or phrases surface and these things come together to create a song that I personally find satisfying in some fashion. 
I hope you enjoy my music. You will find that my songs are a mixed bag of styles and topics. 
On August 16, 2021, I was honored to front and debut with a fine group of award winning musicians to add some great accompaniment.  They are: Ron Goad (percussion), Jim Nagle (dobro), and John Werntz (stand up bass).  They are known as "Heartland." And, others may join in to support us,,  most notably, BillyO (rhythm & lead guitar); Tim Spong (bass); Bill Bowman (bass) and Peter Grattan (harp, keys, percussion). 
My band and/or I are available for listening rooms, house concerts, farmers markets, venues near and far, festivals, and charitable events where we may be able to alleviate someone's loneliness or suffering by supporting good causes or, in need situations. 
Heartland and I, and others are now working with Les Thompson, a co-founder of the Nitty Gritty Dirt Band with Jackson Browne, in his Cabin Studios, to lay down tracks for my debut album.  Les and I have agreed to write some songs together, and we've begun. You may know "Mr. Bojangles" and "May the. Circle be Unbroken" by the Nitty Gritty Dirt Band....
In September (3rd-4th),  I performed solo in and near Raton, New Mexico,  to honor nearly 400 coal miners who passed away in 1913 and 1923. My song,, "1913 Stag Canon No. 2" was written to help memorialize their work and their lives. Some of those who died in 1923, were the sons of some who passed away tragically in 1913. I was invited to perform on Sept. 3 and 4 to descendants of those lost.  The Dawson NM Association now calls my song, "Our song!"....I'm deeply honored.
On Friday (11/12/21)) in the early morning, I grabbed my recently acquired 1950 Gibson CF-100  ("Joy" named after Joy Lundy who was gifted the guitar in 1949 by her father, Everett (Fiddling Buck" Lundy.) and "we" wrote a new traditional roots song called, "She's Working Overtime." It is one of my favorites.
We've been holding off scheduling gigs to free up time to record, write songs, write a book series, post new Guitar International interviews and more, to allow time to get into the studio to record some EPs. 
All the very best,
Rick.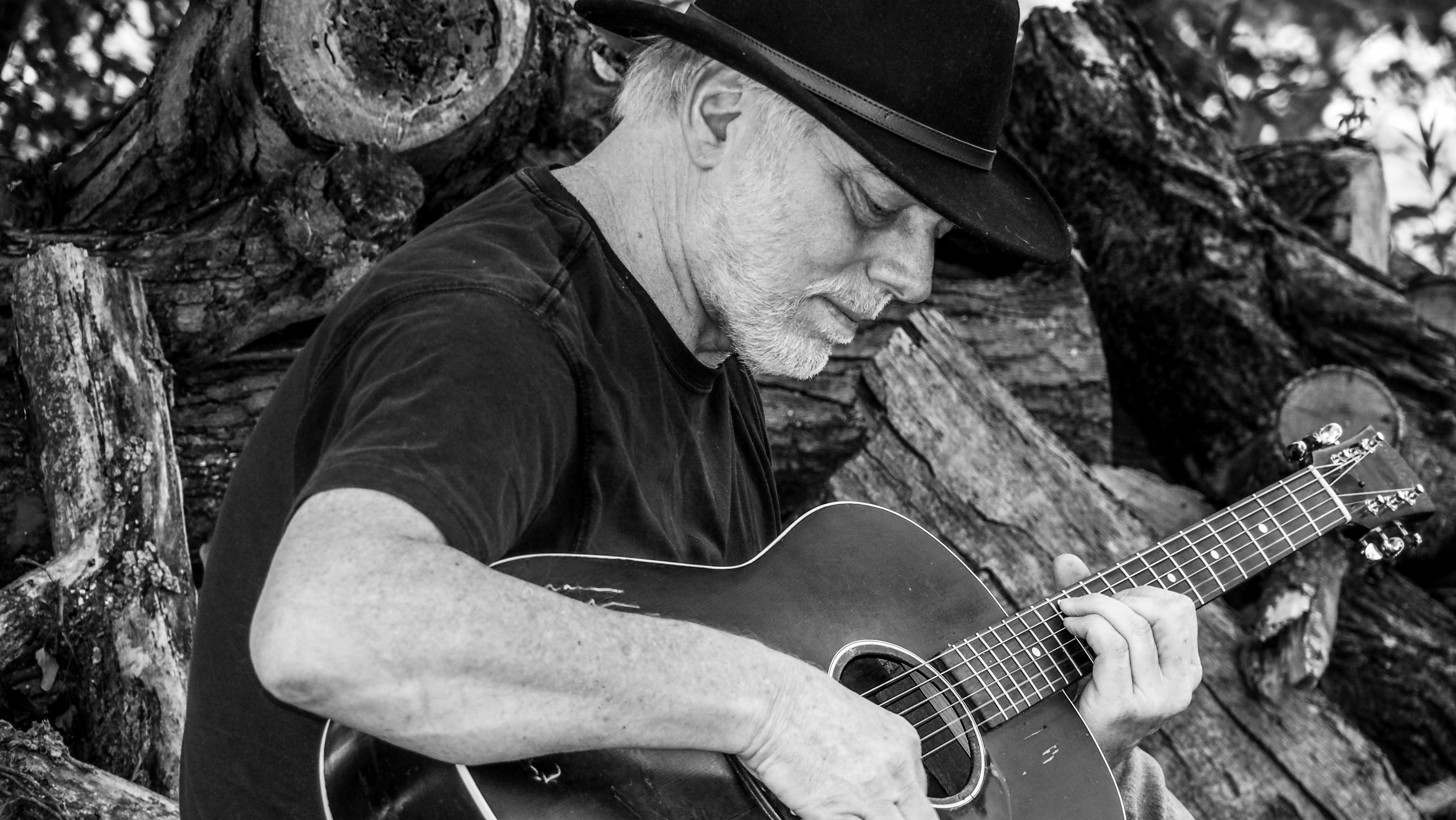 GEAR
My performance gear is usually limited to a vintage 1946 Gibson J-45 or 2021 Gruene OG-30 (Serial Number 1), an SA330x Fishman sound system with a Shure SM58 microphone, a Roland Cube EX amp,  a Fishman Platinum effects pedal and a Boss VE-8 Harmonizer. My other guitars include: a vintage 1957 Gibson Southern Jumbo, a 2001 Larrivee OM-09 Koa, a vintage 1950 Gibson CF-100, a 1973 LR-15 LoPrinzi (Brazilian), a  1973 LoPrinzi (Brazilian) 12-String; a 1993 Yamaha LA-28e Special Edition/Japan Custom Shop);  a 1991 Custom Telecaster with early Joe Barden pickups; a 1981 Yamaha CJ-838,, a custom made 2014 Appala Grand Symphony, a 1920s no name hand-made parlor guitar,  a 1994 McSpadden dulcimer and I recently purchased a high D penny whistle handmade by American bagpipe maker, Seth Hamon. I also recently purchased an early 1950s Favilla baritone ukelele and another from the 1970s, and a Peavey 2-12 Chorus amp, Oh, and I picked up a 1939 Kalamazoo mandolin, a vintage concertina, three pairs of vintage maracas and a vintage 1946 Gibson Southern Jumbo acoustic guitar with a mid-1940s case!
2023 Band Schedule
 — (EDT, UTC-04) — (EDT, UTC-04)
Multi-award winning songwriter, music magazine publisher, author and performer, Rick Landers, will present a songwriter's workshop where he will talk about songwriting ideas, development, and performance. He will perform several of his original songs, including: "Red," "Fly Me to the Moon (Judee Sill)," "Appalachian Hollow," "She's Better Than Me," and talk about some of the lyrics. A Q&A will follow...Rick's song presentations will be accompanied by Jim Nagle on dobro guitar.
Multi-award winning singer songwriter, Rick Landers, and Heartland to perform original Americana songs!
NY Blues Hall of Fame Artist Toby Walker Featured w/Rick Landers
Private house concert featuring NY Blues Hall of Fame Artist Toby Walker w/Rick Landers
Rick Landers & Heartland will present two hours of original songs to visitors to Lake Anne's Saturday Farmers Market. Rick's a multi-award winning singer-songwriter, publisher of Guitar International magazine and music author.
CREDITS & LEGAL
Credits: 
Vocals:  "If I'd Given My Heart to You'"
Vocals: "Open Up" (Studio) - Rick Landers (Lead Vocalist)
Producer: "If I'd Given My Heart to You" - Stacy Hogan (A Writer's Paradise Studio, Nashville, TN)/Producer: Marco Delmar (Recording Arts, Arlington, VA)
Producer: "Open Up" (Studio) - Stacy Hogan (A Writer's Paradise Studio, Nashville, TN); Marco Delmar (Recording Arts, Arlington, VA)
Photos by: Mike Davis (Top of PAGE and others); Peggy Landers, Terry Landers, Ron Goad, and Sherry Stewart, Andy Markley - All other photos are (c) Rick Landers 2021,
Legal Notice:
The contents on this site may not be distributed beyond the intended original recipient. Permission to distribute creative works must be approved in writing by the copyright owner (Rick L, Landers), who can be contacted via the contact area on this site.  All  works (music, lyrics, recordings) at this site are provided for display purposes only and are not for sale in any manner, without the express permission of the copyright owner (Rick L. Landers).  Rick L. Landers is a registrant of BMI and any use of the his music for paid or unpaid performances are required to be submitted to BMI.